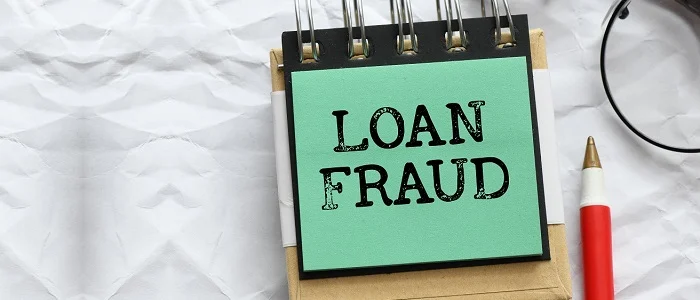 6 Most common loan scams and how to identify them
Whenever you decide to take a loan, you probably focus on factors such as interest rates or terms of repayment. Most of us fail to realise that what matters the most is the organisation's legitimacy. Scammers often coax people into taking loans and taking advantage of their money needs. 
It is not always easy to spot a scam, this is because scammers are experts at what they do and use convincing tones to persuade people. In this article, we will help you get familiar with the most common scams. Once you get familiar with them, you should have a better understanding of how to spot them.
Especially during the time of the Covid-19 pandemic, a sharp rise in cases was observed. This was primarily due to the sudden shift to virtual systems. Scammers formulated tricks and deceits to entice people in applying for loans.
A loan scam is a kind of deceitful action. The lending company gathers your personal information, but the loan is never provided.
Let's now look at some of the loan scams.
Advance-fee loan scams
The scammer will reach you in this particular situation and offer a low-interest loan. This too in exchange for upfront fees. To make them sound legitimate, they might call it "Processing fee" or "Application fee". When they successfully have your interest, they ask you to pay this amount in a somewhat non-traditional way. 
If you deny giving the upfront fee, the lender will add this to your loan amount. Then a bogus electronic transfer will be made to your account. This is a sneaky strategy because credible lenders may also offer you to add up your fee to your loan. 
What are the red flags?
Requesting upfront amount: Do not give an ear to any email or call that promises you a quick loan in exchange for advanced payment. Make sure that you don't reveal any of your banking information. The legal lenders will never demand any amount before loan approval.
No credit checks: The sign of a legitimate lender is that they'll thoroughly check the credit score and profile of the borrower. Such individuals that face debt issues are most likely to be targeted by scammers. This is because credible lenders might not entertain such personnel.  
The deal appears to be exceptional: Scammers usually acclaim special links and outstanding loan policies. Be wary if the loan credit limit or interest rate is above or below any other you've observed. 
Immediate decision-making pressure: Fraudulent lenders will often push you to quickly reach a decision. On the contrary, the legal ones will never force you into your decision and provide assurances. 
Phishing scams
Phishing is technique scammers use to attain access to confidential data via email. This may include your usernames, security keys or banking information. The method employed is called "Social Engineering". It is a method of conning people by manipulating their emotions.
Sometimes, this may entail coercing you into opening an email with attached malware. This will then automatically get installed on your computer. 
Such emails are customised to make them look like the ones sent by legitimate lenders. In addition, they frequently use ominous dialects to titillate your interest. They can easily steal all of your data without you even realising what just happened.
What are the red flags?
Unanticipated email attachments: Try not to open emails from anonymous sources. Scammers are skilled at impersonation rendering it easy for them to fool people.
Inadequate grammar usage: In this day and age, it's not uncommon to find a typing error in an email from a valid loan company. If the email contains grammatical errors or structural issues, this may be a sign.
Familiarity with the sender's address: Scammers know that if an email appears to have been sent by an entity you recognise, you will likely open it and trust the content. They accomplish this by tactfully modifying the sender's email address's domain name.
Scams involving government impersonators
Quite often calls or emails are made by people pretending to be from government agencies, they will persistently ask for confidential information and data. They also threaten you with consequences.
What are the red flags?
Contact methods: The government would never send you money-related information via email, text, or social media. The emails will always contain a "gov" extension. You can search these addresses on the web to validate this yourself.
Impersonating a law enforcement officer: Law enforcement personnel might never ask you for confidential material or fees. Law enforcement fraudsters use different methods to appear legitimate and frighten you into conformance. They even use badge numbers and real titles.
Scams involving forged cheques
Fake cheque fraud occurs when an individual or company approaches you and makes some requests. For example, they may ask you to transfer a cheque or a cash amount to your account. Then you are supposed to wire the funds back for payout. However, accepting this might lead to bouncing of the cheque.
What are the red flags?
Offers of employment: You are likely to get a job offer from the scammer. Later, you will be provided with a forged cheque to deposit. They'll give you directions to repatriate or deliver some of the cash in a specific form. This will be done disguised as job tasks.
Sweepstakes and lotteries: You will get a forged cashier's cheque for a fictitious international lottery win. Then they'll ask you to send them money right away to fund taxes or fees.
Overpayment: The scam artist will be interested in purchasing something you are selling on the internet. Then they will "inadvertently" deliver you an amount more than that of the item. Afterwards, they will request that you return the amount, and you might lose money.
Scams concerning debt consolidation
Debt management firms claim to be able to cancel or minimise your debts. They consult your lenders and persuade them into modifying contractual terms. These can also be deceitful and steal your cash, failing all promises.
What are the red flags?
Requesting funds in advance: Untrustworthy debt settlement businesses will frequently require you to pay upfront amounts. This is not only ethically wrong but also unregulated.
Ensured debt relief: Obtaining debt reduction or forgiveness from creditors is a negotiation, not a pledge. No company can ensure that all of your debts will be paid off.
Instructing you to halt payments: Never place your faith in a corporation that guides you to quit paying your lenders or interacting with them. This will not help you with your liabilities and will only harm your credit.
Scams involving donations or charities
Among the most heinous fraud schemes are the ones perpetrated by opportunistic fraudsters. They pose as representatives of charity groups during trying situations. Nowadays, crowdfunding and newly formed genuine charities are prevalent. So, determining what is and isn't valid can be more challenging than ever.
Spend the effort investigating any person or organisation requesting money from you.
General ways to spot a scammer
Aside from deceptive lenders demanding cash in advance, there are a few crucial methods of identifying a loan scam right away.
Nothing is provided in writing by the lender.
Every loan proposal must be in written form. So, if they call you with a deal, you'll know right away that you're interacting with a loan scammer.
The lender's physical address is invalid.
If a creditor does not provide a valid physical address, that is a red flag. Even though the lender offers a location, enter it into Google Maps if you have any hesitations.
The lender's website is dubious.
A reliable creditor would have a safe, working website with company information. If they lack a webpage or if it's unsecure, you should look somewhere else.
The lender is unconcerned regarding your credit history.
 Before making a loan, any credible creditor will need to know some basic information. It is a warning sign if they are indifferent towards your history. 
The loan terms are hazy.
All fees and loan information will always be disclosed upfront by trustable lenders. They will not request payment until you have been accepted. There's a decent possibility the loan specifics are a scam if they're too general or don't provide actual figures.
Conclusion
In the article, we have informed you about several ways to recognise scammers and some techniques to deal with them. We hope that now you'll be able to protect yourselves from such frauds. 
*Capital is at risk and Kuflink is not protected by the FSCS. Past returns should not be used as a guide to future performance. Securing investments against UK property does not guarantee that your investments will be repaid and returns may be delayed. Tax rules apply to IF ISAs and SIPPs. Tax treatment depends on the individual circumstances of each client and may be subject to change in future. Kuflink does not offer any financial or tax advice in relation to the investment opportunities that it promotes. Please read our risk statement for full details.