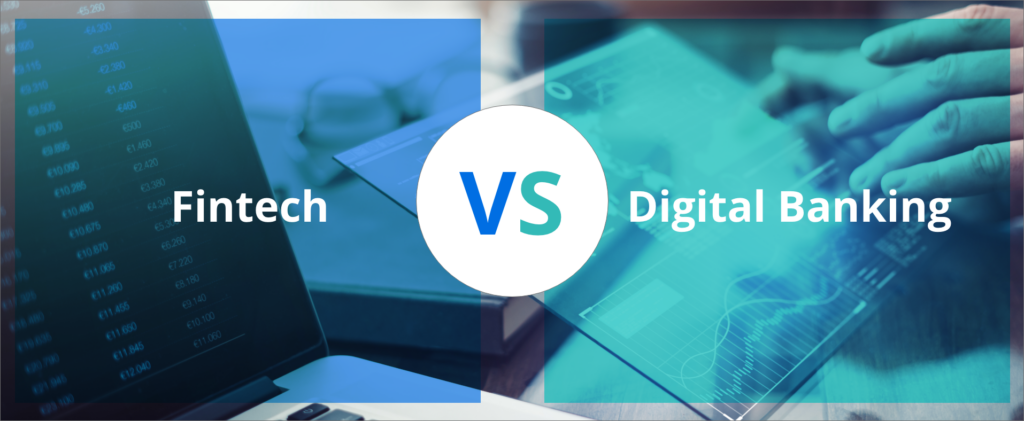 Fintech vs digital banking
Traditional banking has been challenged to progress towards a digital approach. Today banking has reached a point where the digital business model has proven and matured. The majority of the population has already moved to a digital era. Digital networking has become the foundation of financial institutions. In addition, the internet and mobile are the cherries on top of the cakes. Most retail banks have turned into digital banks, being dominated by fintech trends. 
What is Digital Banking?
Financial innovative technologies have shaped banking through digitisation, and digital banking is the perfect example of this process. Digital banking is known as the digitisation of traditional banking, where people can access all services online without having to go to the bank.
Digital banking is a step forward from physical to online with a high level of automation and web-based services using a web interface or a mobile application. This revolution has made it easier for people to access their financial data through ATMs and mobile services. Thus, a paradigm shift from traditional banking to a digital banking ecosystem has been triggered by the culmination of financial innovations. 
What is Fintech?
A fintech is a hybrid approach to financial technology. It has brought a new wave for businesses looking to revolutionise their financial services using innovative technologies. Fintech is a financial industry comprising companies aiming to compete with the conventional economic methods to shape the future of banking. 
Fintech covers a wide range of technologies, business models, and products that have changed the way people send, receive, pay, lend, invest and borrow money. 
      Different industries are now adopting Fintech to make their existing delivery processes efficient in all aspects. For instance, if you send money through your mobile phone using an app or check your bank statement online, then you are already a part of the fintech industry. This industry is changing the world economy. The financial crisis and people's distrust in the banking system have led to this financial revolution.
Fintech Example
Peer to Peer lending has become a huge player in the Fintech industry. Companies like Kuflink peer to peer lending match borrowers and lenders without depending on traditional banks. 
In addition, lenders can invest without having to pay any overhead charges, in turn for better interest rates. 
Difference between digital banking and Fintech
Fintech offers people transparency, trust and technology using an efficient and improved business model where customers can benefit from the enhanced efficiency. This revolution of financial services has allowed the automation of processes and has eliminated the middleman to improve customer experience. In contrast, digital banking aims to improve customers' banking experience via digital channels like bill pay, mobile payment, etc. 

Digital banking is a virtual process that completely integrates with the core banking solutions while decreasing the use of extensive paperwork such as pay-in slips, cheques, loan applications, etc. However, digital banking's scope is limited to banking-related tasks such as personal financial planning, online banking, digital wallets, bill payments, mobile transfer and digital coupons. On the other hand, the Fintech industry comprises business models either within or outside the scope of financial institutions. 

Fintech aims to reshape financial services through technologies such as machine learning, big data, automation, blockchain bonds, artificial intelligence (AI), Robo-advising, crowdfunding and more. 

Digital banking has also redefined the retail banking experience to be more customer-centric, using chatbots, machine learning, robotic process automation, CRM and blockchain etc. Flexibility and user-friendliness are the keys to the digital banking model. 
Why is Fintech growing rapidly?
During the COVID-19 pandemic, the use of mobile banking increased immensely, and it is predicted that the user will remain the same even after the pandemic. This is because most people have grown to prefer multi-channel interaction and like digitally-enabled banking with remote assistance, which is available when needed.
In order to fulfil customers demand for efficiency, speed and smooth user experience, financial service providers are integrating technology into their financial services. This has allowed them to provide a better user experience. For example, if giant retailers like Amazon can enable customers to complete purchases in seconds, it should not require a physical meeting to open a new bank account. 
The fintech industry bridges the gap between traditional banking and modern customer expectations. As a result, the industry has grown massively and is expected to grow to £309 billion at a growth of 25% throughout the year 2022. 
Is Fintech going to last?
Fintech is the future of banking; hence it is not surprising that the Fintech companies in Europe have raised more than £14.3 billion in venture capital funding and are valued at £78 billion. Conventional banking has drastically evolved its functionality thanks to new-age technology such as machine learning, analytics and AI. Also, they have begun to acquire fintech start-ups to diversify their services. 
It is a highly competitive market; therefore, some Fintech companies thrive while others struggle to survive. However, this also presents an opportunity for banks and Fintech start-ups to work together.

Can traditional banks and Fintech companies work together?
Traditional banks and Fintech companies both work as financial intermediaries. However, even though banks have been around for hundreds of years, they still have to make drastic changes to fulfil the modern-day customer requirements. 
Fintech's technology provides users with advanced features along with the services that banks offer. Therefore, it is highly unlikely that people will completely switch to Fintech from banks. However, banks and Fintech can collaborate and co-operate to create a bigger impact. If the two industries partner up, they could have immediate advantages. 
Banks can benefit from the technological advancement and agility of Fintech. Let's have a look over the benefits of traditional banks and Fintech collaboration:
If banks collaborate with Fintech, they could be regulated in the same way and work in the same way as each other which could help build customer trust.

Compared to Fintech, traditional banking gets huge deposits. So, their partnership can build a better financial system which could be easier for banks. 

The overall financial system can improve immensely because of the advanced Fintech technology.
Traditional banks are now embracing advanced Fintech features to improve customer experience. In addition, as the overall finance system is continuously evolving, allocating resources for digital agility has become a priority for the banks. 
Combining trust and support (banks) and innovation (Fintech) is a win-win situation to create a better digital future for the finance sector. 
*Capital is at risk and Kuflink is not protected by the FSCS. Past returns should not be used as a guide to future performance. Securing investments against UK property does not guarantee that your investments will be repaid and returns may be delayed. Tax rules apply to IF ISAs and SIPPs and may be subject to change. Kuflink does not offer any financial or tax advice in relation to the investment opportunities that it promotes. Please read our risk statement for full details.