Kuflink's New features for May 2021. Stand Up with CTO
The Kuflink Tech Team has worked diligently to bring new features for May 2021 forward. Together, with your feedback, we are able to fulfil Kuflink's purpose in connecting people to financial freedom.
Quote for May 2021
"If we human beings rely only on material development, we can't be sure of a positive outcome. Employing technology motivated by anger and hatred is likely to be destructive. It will only be beneficial if we seek the welfare of all beings. Human beings are the only species with the potential to destroy the world. Because of the risks of unrestrained desire and greed we need to cultivate contentment and simplicity" – Dalai Lama
Bit of fun for May 2021
Please view our teaser video showing the NEW IF-ISA wrapper offering around some of our Select Invest Deals.
What's New or on its way to the Kuflink Platform & Kuflink Mobile APP for May 2021
1) You can now open each new Select Invest deal on separate tabs of your browser in the Market place (Secondary Market);
2) All loan tranches and tiers to show other tranched and tiered loans under each related Select Invest Loan. This is now live;
3) We are working on showing updated images and information of our Development Loans – development has started – release date in the next few weeks;

4) We have started works on providing an IF-ISA wrapper around some of our Select Invest Deals. Code has been released on the platform and is going through final testing. The release will be any day now;

5) Insights section is being enhanced to show other useful information to those keen on property investments. We will be showing information per region and maps never seen before showing specific property type price performances within regions;
6) IF-ISA Transfer IN Sign up process to be digitised is now ready for end to end development and release in the next few days;
7) Connect to our Open Banking App, which then means we do not require an uploaded bank statement, and gives the ability to make bank transfers in real-time – development is ongoing;
8) A New segregated IF-ISA wallet, and SIPP wallet (which also comes with surprise features) – development has started – release in the next few weeks;
9) Works have started on Upgrading our NEW Dashboard. New live Charts, proprietary budget tools, links to other investments, accrued interest, etc. will be on display.  

10) Proprietary loan management system has been linked to the Invest platform showing real-time borrower loan information tabulated, and charts showing the breakdown by property type, 1st charge versus 2nd charge, breakdown by Gross LTV, geographical split and historic lending Volumes (Statistics page). 
11) We will be working on New Videos and specific pages (showing fast-forwarded investments with different results) to ensure clients get a further enhanced understanding of all of the risks and rewards in Peer to Peer investing. This will be implemented into the onboarding flow prior to possibly FCA introducing this next year.
12) Introduced the Kuflink.com footer with Products, Guides, About us, Blogs and Work with us links to the invest platform footer;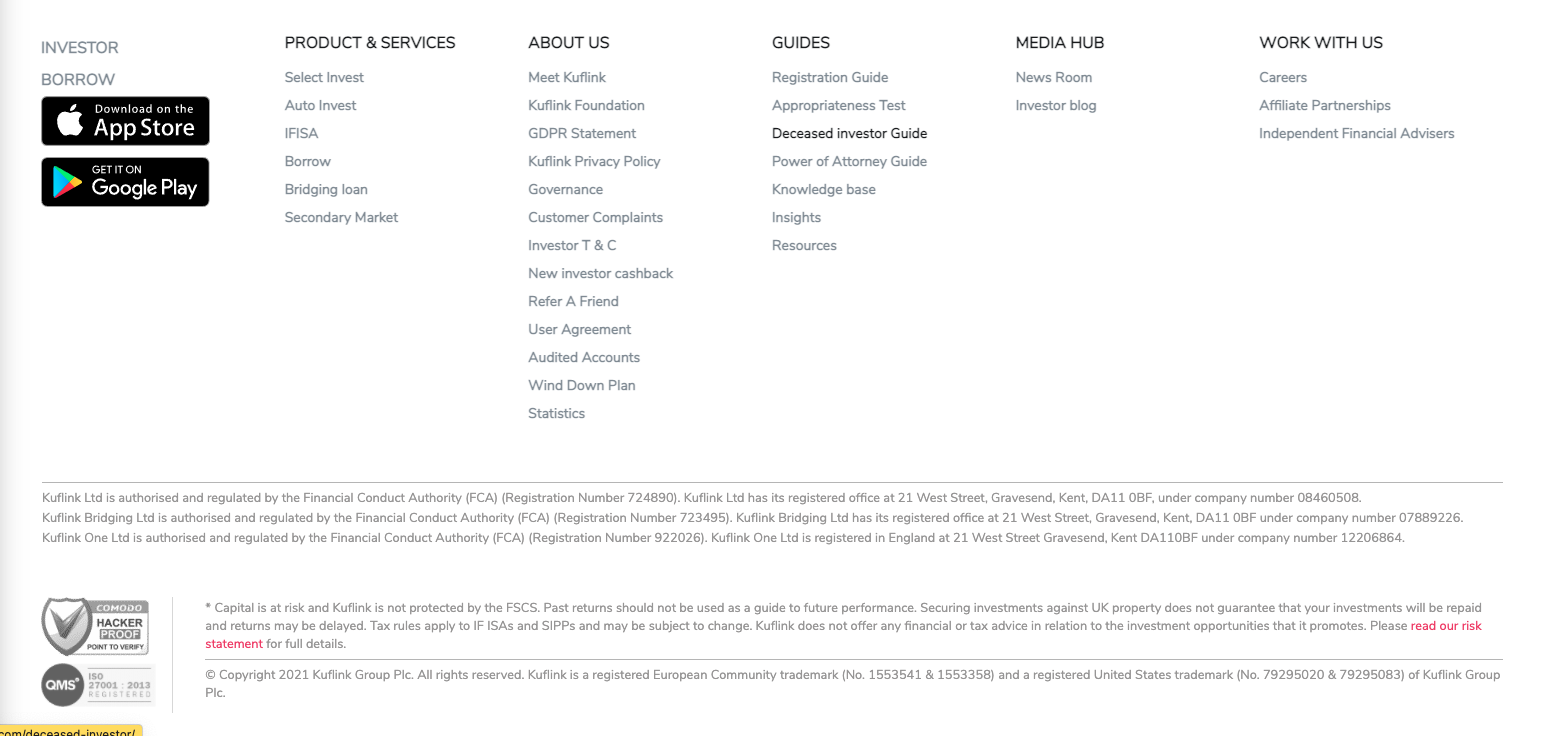 13) View Active Investments information has been put into a new section to enable the speed of the mobile apps and desktop versions to increase. This will also appear on the dashboard in the future. But please click on the links labelled (View Active IF-ISA Investments) in the Portfolio section. There are three links in Select Invest, Auto-Invest and IF-ISA as shown in the example below;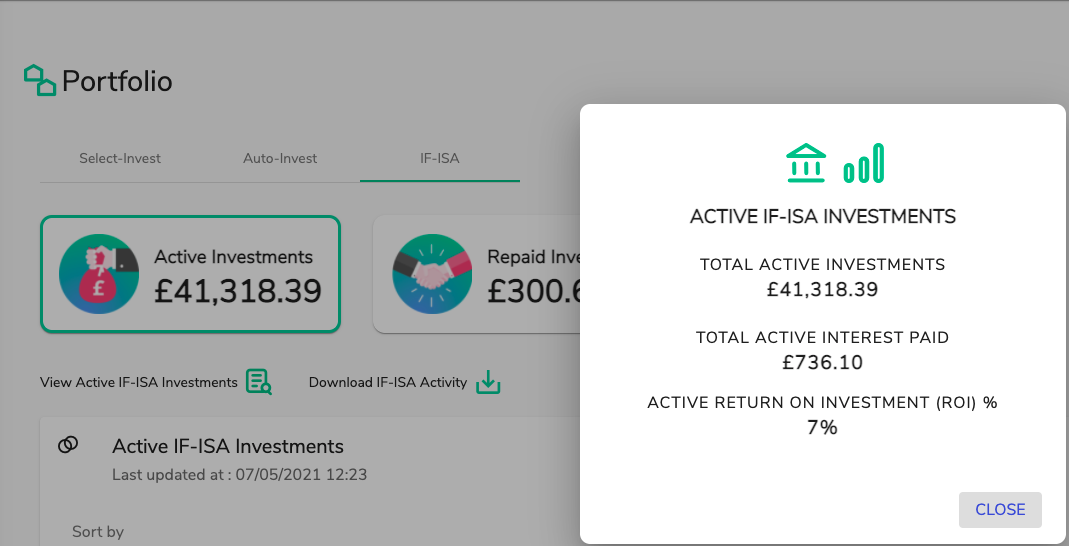 14) Please Download our Mobile APP using the links below; and
15) Much more coming.
CTO thoughts for May 2021
"Criticism may not be agreeable, but it is necessary. It fulfils the same function as pain in the human body. It calls attention to an unhealthy state of things." – Winston Churchill.
This is why we went against the grain when it came to adopting our own Kuflink Default definition of one calendar month rather than the FCA Default definition of six calendar months. We react much quicker. We get in contact with borrowers many months before things go into one month default. Interestingly, our debt repayment during covid was substantial. This is mainly due to the Collections team, Underwriting and Credit committee decisions.
KUFLINK DEFAULT RATE.
A loan defaults when it is one calendar month past a missed payment, with this payment still outstanding. This may be a monthly servicing payment or the full repayment at the end of the term.
FCA DEFAULT DEFINITION
A loan defaults when the Borrower is past the contractual payment due date by more than 180 days. Which is approximately six calendar months.
We've had an amazing ISA season and our product development is expanding, especially in regards to the New offering with ISA wrapper around select invest allowing users to self select their opportunities. There are new products for Borrowers and Investors on the horizon (watch this space).
We continue to invite new users to the platform and strive to simplify the onboarding process to ensure clients understand risk and reward before investing. 12 months into the pandemic, the tech team's contribution and dedication has been exemplary. The team's tenacity is commendable whilst working remotely across various time zones. It's been a massive effort by all.
* Capital is at risk and Kuflink is not protected by the FSCS. Past returns should not be used as a guide to future performance. Securing investments against UK property does not guarantee that your investments will be repaid and returns may be delayed. Tax rules apply to IF ISAs and SIPPs and may be subject to change. Kuflink does not offer any financial or tax advice in relation to the investment opportunities that it promotes. Please read our risk statement for full details.