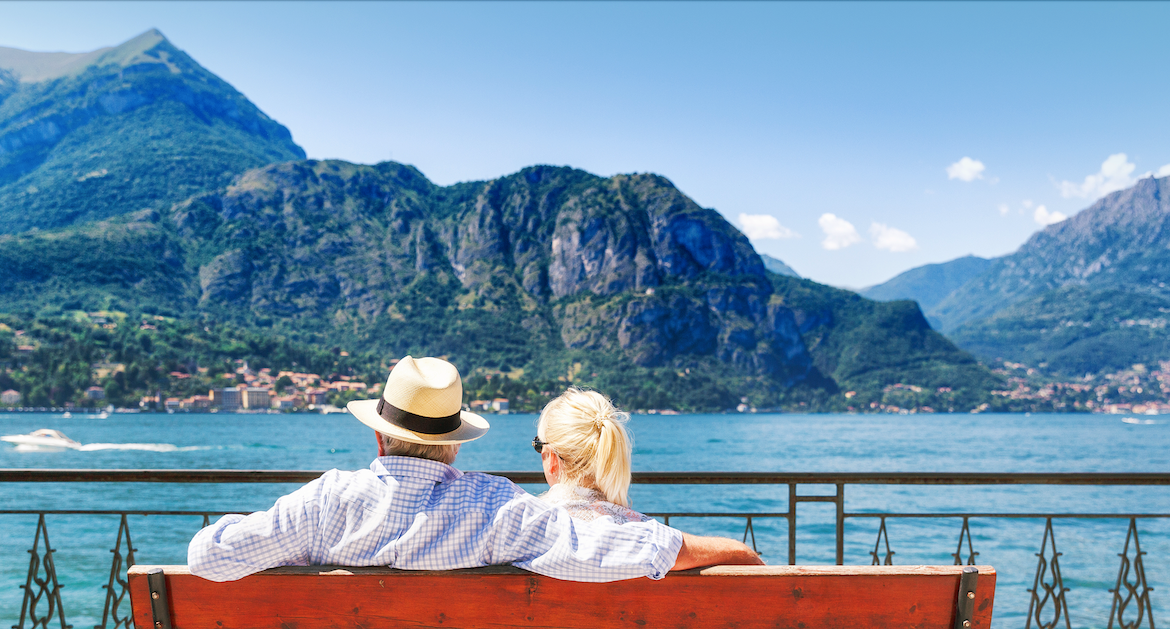 April 22 to July 22 have been very effective months for us, with many new Feature releases and updates to our previous releases. We hope you enjoy them as much as we have enjoyed building them. 
Quote for July 2022
"Budgeting Time & Money. Effectiveness in human endeavour calls for the organised budgeting of time. For the average man, the 24 hours of each day should be divided into 8 hours for sleep, 8 hours for work and 8 hours for recreation and spare time." – 12 of 17. Napoleon Hill's 17 Principles of Success. (To see previous Napoleon Hill's 17 Principles of Success please refer to previous CTO blogs).  
---
Released – Online P2P Platform
1) Released! A NEW Buy to Let Pool Product is now live. 
We now offer a Buy to Let product to our existing borrowers meaning they can refinance their original Bridging/development loan with us rather than having to go to a bank. The great news for our investors is that we can now offer you a longer-term investment (3 or 5 years) in the NEW Buy to Let Pool which pays you monthly. Buy to Let Pool is also IF-ISA eligible.*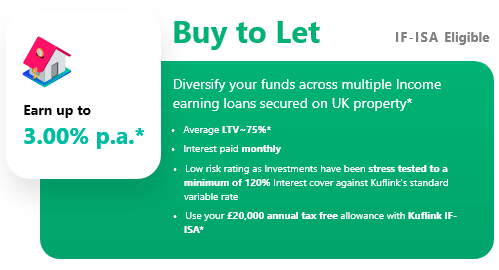 2) Released! A NEW SIPP Pool Product is now live with its own SIPP wallet. A SIPP is Self Invested Personal Pension, which will be done in partnership with Morgan Lloyd (a Specialist in Self-Invested Pensions). The SIPP Pool will have SIPP-eligible property loans. To open a specific SIPP account with us please reach out to us and we will help you through the process.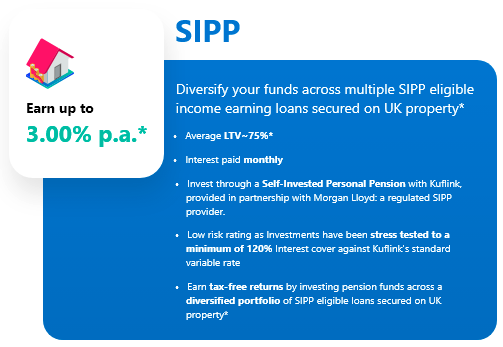 3) Released! New Updated releases for Mobile App for Android and Apple. We have completely upgraded the APP so that you now see features on the desktop that are now available on the APP. This has been a long time in the making and we are proud of the team of this Beta Release. Please ensure you download the latest version on the APP store.  
4) Released! NEW Environmental, Social and Governance (ESG) page has been built, to show some of Kuflink's Key performance indicators (KPIs), energy performance certificates for the head office, Consumer survey results, Ongoing Management information: Profit & Loss, Balance sheet, Taxes paid, Green property developments funded, Governance committees, and much more.
Click here to view the ESG Page. 
5) Released! New Notification System for Bank transfers to the Kuflink wallet. We have completed this system where you can advise us of any bank transfers that you have made on the day or expect to make. This will assist us in updating our systems to expect funds from you. To get started, press the wallet image, go to Top Up, and then choose Manual Bank Transfer (UK) from the drop-down menu. Please note, on receipt of your transferred funds they will not automatically invest into your desired product, this is still solely your responsibility.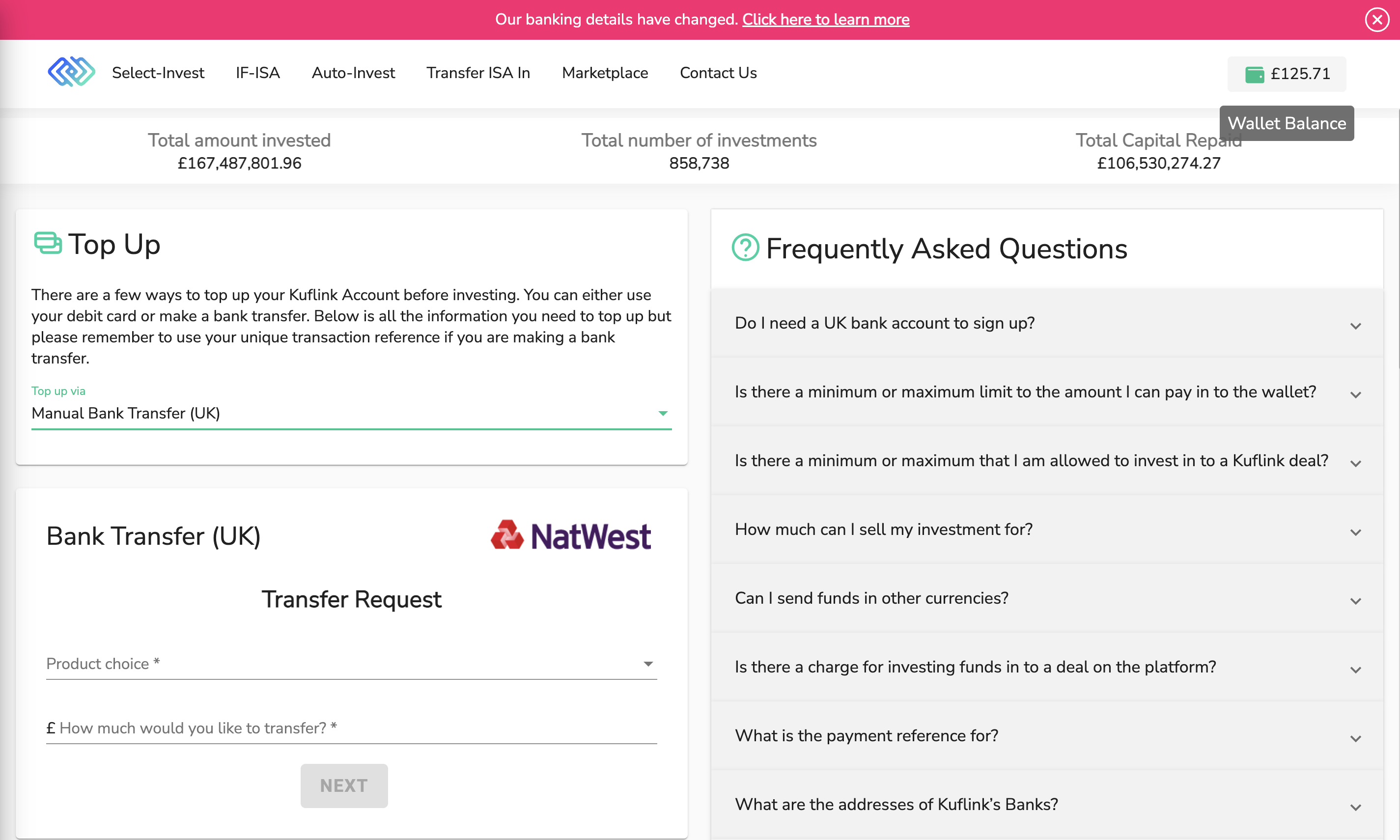 You can amend any notification by scrolling down to Topup Requests.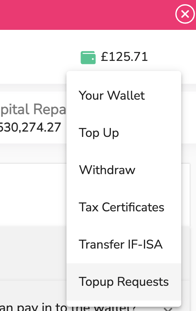 6) Released! New Wallet Balance transfer option between Wallets.
Due to the release of new wallets:
   i)   General Wallet;
   ii)  ISA Current Wallet; and
   iii) ISA Previous wallet

We have updated the top right wallet balance to now include the total of all wallets. 

7) Released! Dashboard Totals
Due to client requests, we have just released a new "Total Investments" figure, a new "Total Reserve" figure to include Select Invest Reserve and Select IF-ISA Reserve totals, and a "Select IF-ISA Reserve" figure.


8) Released! You can re-term your Auto and IF-ISA investments on the platform before they expire
You can now re-term your IF-ISA and Auto-investments up to 190 days prior to their expiry. When multiple investments mature close together, especially at the end of the financial year, it can be a hectic time so you can now re-term early and know that your investments will continue to earn you interest.  It takes just a few mouse clicks.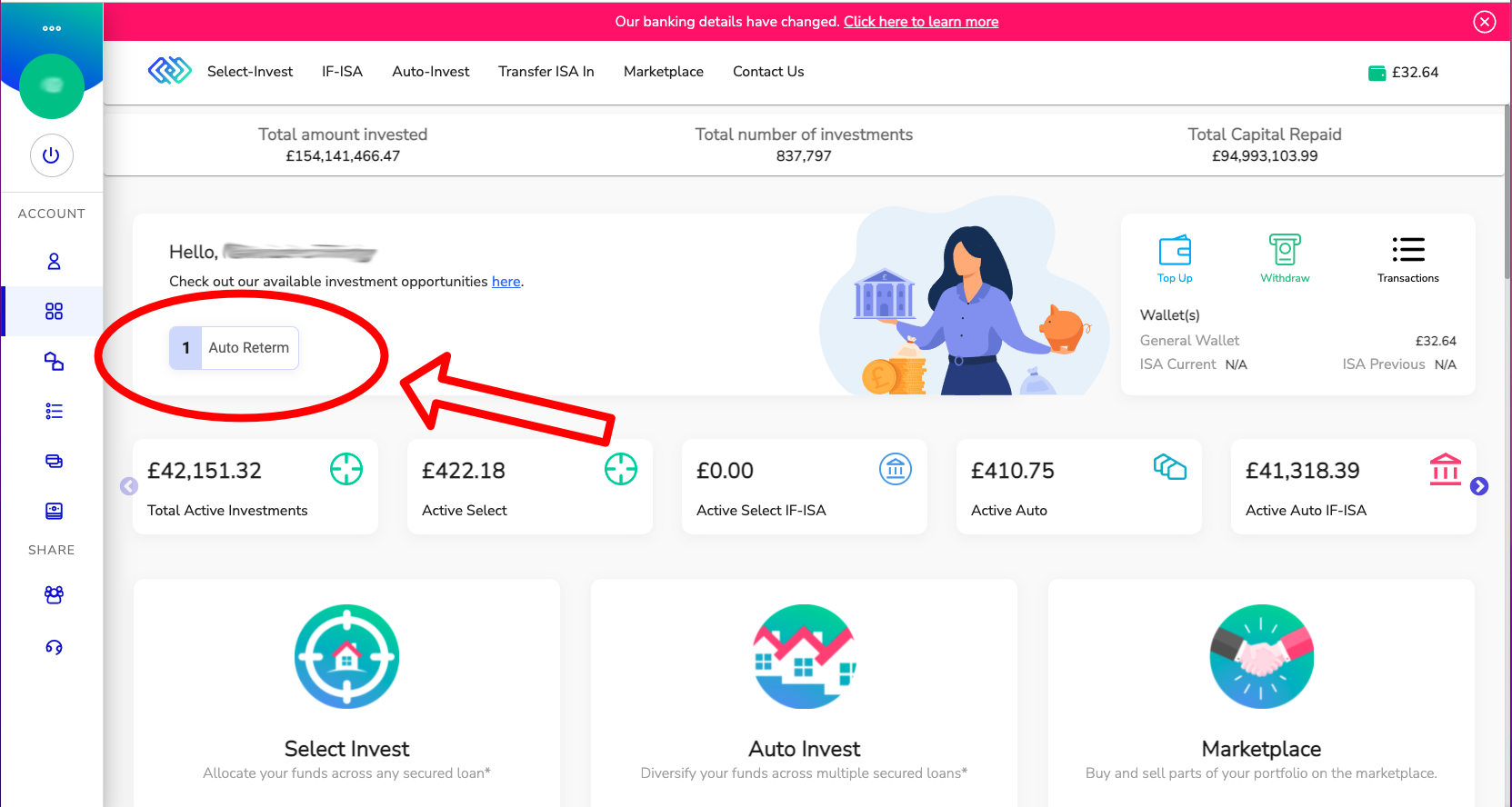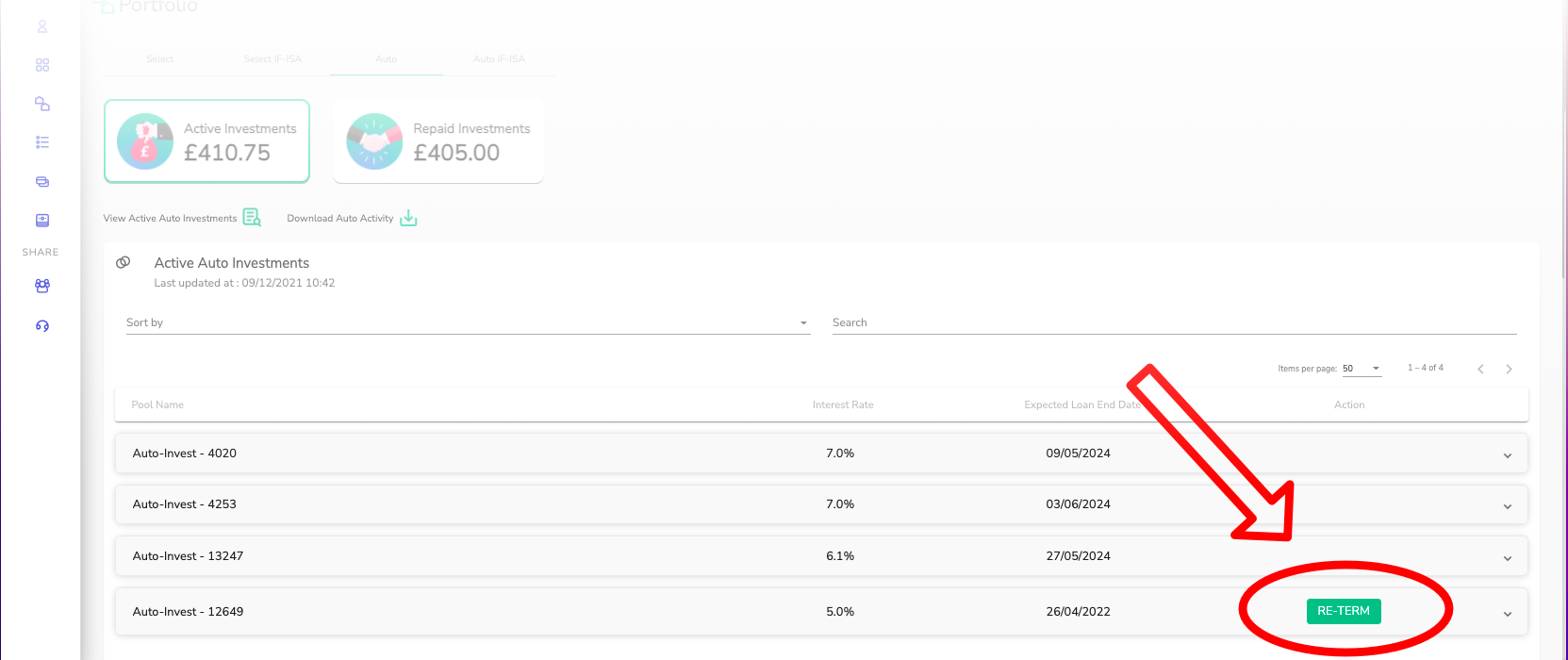 9) Released! Pool Investment Live loan Amount Break-down has been upgraded. 
The real-time Pool "Breakdown" per Auto or Auto IF-ISA investment which showed unallocated cash, loan updates, default section, now has a downloadable report function, in the Portfolio section. 

Breakdown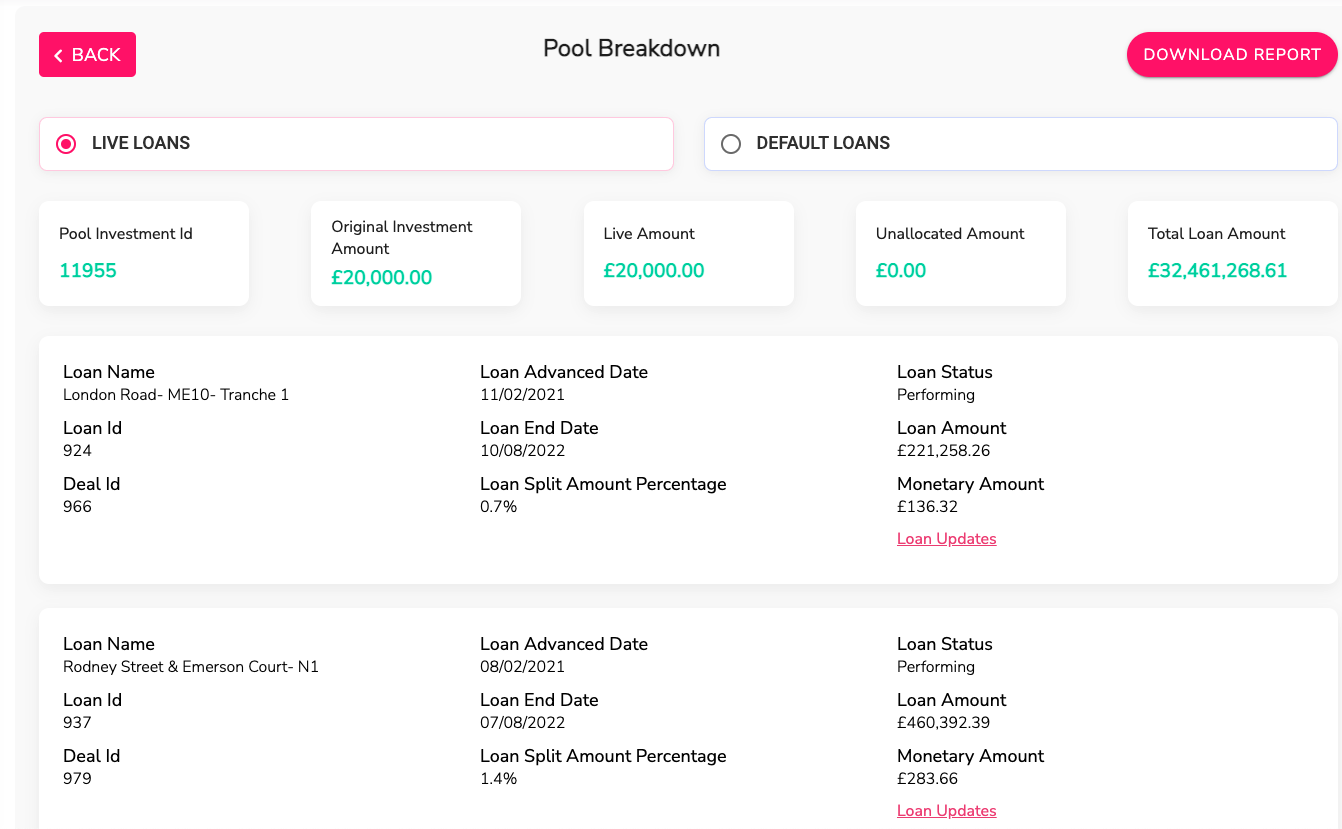 10) Released! Buy and sell IF-ISA on the secondary market.
You've always been able to sell your Select Invest loan parts on the secondary market, should you wish to (for more detail, visit the marketplace here).  But now, you are also able to buy and sell Select IF-ISA loans too.

11) Released! The Audited Accounts page has had a face-lift. 
Our Management accounts up to June 2022 are available on the Kuflink ESG page.
In January 2022 we released our latest, 5th year of Independently Audited accounts for the platform,  for the period ending 30th June 2021. We decided to upgrade the page for you with links to previously independently audited accounts for all the regulated companies and the main Group company. Click here to view the page.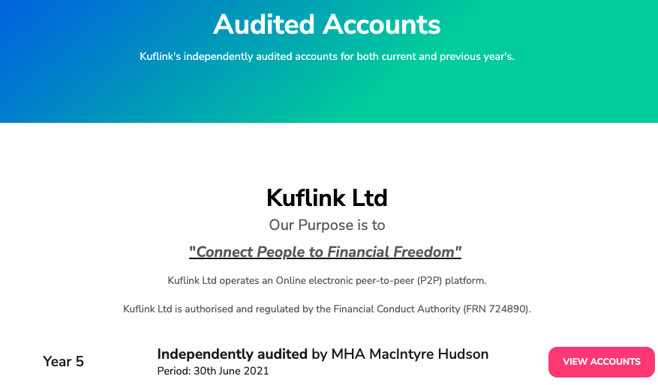 ---
Coming Soon! – Online P2P Platform
1) Coming Soon! We are in the final testing phase of allowing clients to automate the withdrawal of their monthly paid interest. This is a feature that some of our clients wanted as it was a repetitive task for them every month.  
2) Coming Soon!  We are in the final testing phase of introducing "Multi-Factor Authentication" ("MFA"). Adding an additional layer of security to your account is a way in which we can double-check it's really you.
3) Coming Soon! Some new Proprietary features based on your feedback. 
---
Updates!
1) Update!  We have completed our Third Consumer Duty Survey (to our retail clients) and the results were amazing again. Please see the Kuflink ESG page to see the results. We are most grateful to all those who took part, as together we are fulfilling our purpose to "connect people to financial freedom".
2) Update! We have connected our Open banking platform to our P2P Platform successfully, to enable bank transfers to be immediately updated to Kuflink client wallets. We are still working with NatWest in regards to NatWest to NatWest transfers which are still manually uploaded. We have found another way to update these automatically and so will be implementing this soon. 
3) Update! On Thursday 21st April 2022 we started protecting client money for Corporates as we do for Individual client money under FCA Client money rules (CASS 7).
4) Update! We have successfully passed our ISO27001 Audit (UKAS). Press here for a copy of the certificate. 
5) Update! Some of our directors have successfully housed a family from Ukraine and are continuing to help in any way that they can to find some peace and normality in this traumatic crisis. 
6) Update! At times, unexpected popularity can result in pool availability being sharply taken up, leaving clients without the pool option for their ISA investment before the Financial Year End. The good news is we have a solution that will enable you to allocate money to this Financial Year without losing any allowance. Simply transfer funds from the General Wallet to IF-ISA (Current), after clicking "transfer" the amount you have transferred will be deducted from your general wallet and be used against this year's allowance. You will then be able to invest these funds once we have further availability again.
7) Update! We have successfully internally passed the Bcorp Assessment, scoring significantly higher than the minimum (80 out of 100). BCorp assessors are now processing a verification Audit and are hopeful we will have our BCorp certificate in the near future. For the moment we have released the assessment answers on our Kuflink ESG page. 
8) Update! As part of our objectives of the Kuflink Foundation and the Kuflink Group, we are pleased to announce a new two-year deal with Ebbsfleet United with a long-term principal club sponsorship. We are committed to our local community and the support of Ebbsfleet United – through sponsorship and in person at the club.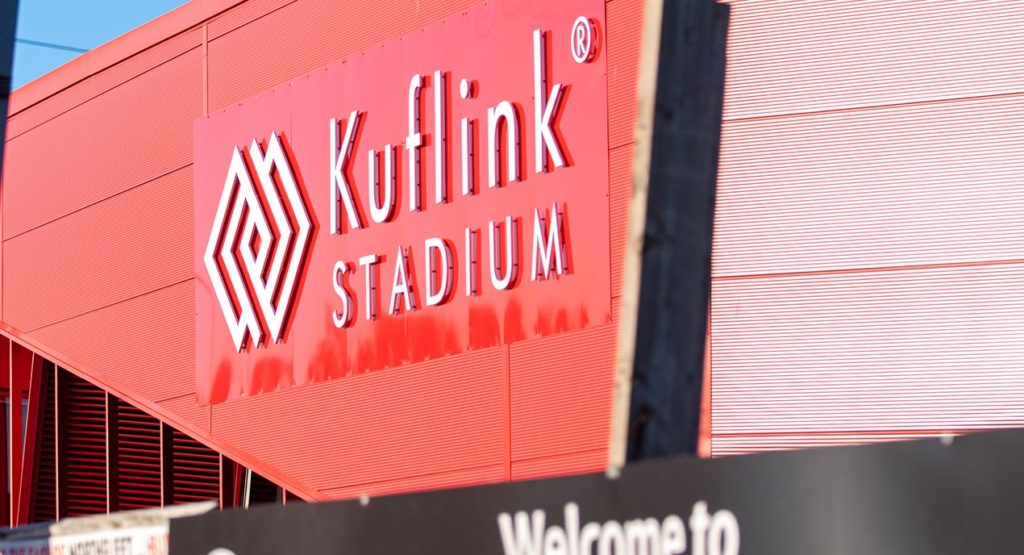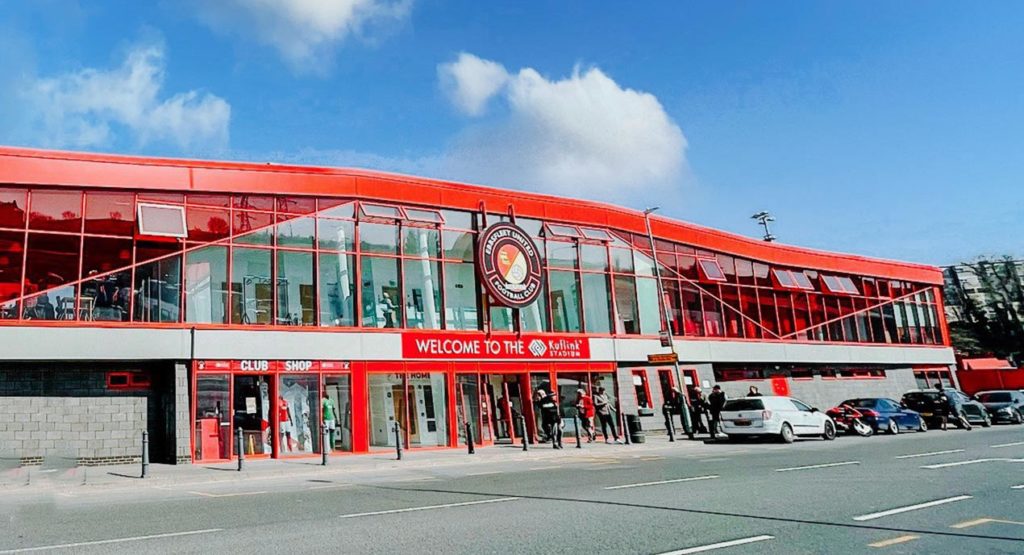 9) Update! We are onboarding with a major new service provider for debit card transactions. 
10) Update! Last year we managed to open bank accounts with Natwest Bank plc which for a Peer to Peer platform was challenging at best. We are happy to report, that we have also now managed to open bank accounts with Barclays Bank Plc, which helps with our resilience models. 
---
Chief Technical Officer's (CTO) thoughts for July 2022
We have been lending money secured on property, for 10 years (since 2011), and have operated an online electronic Peer to Peer platform for 5 years (since 2016). We have just launched an Open banking Platform this year (2022). Throughout this period, Kuflink has ensured no investor has lost a penny thanks to our:

In-House team
Experienced Underwriting team;

Experienced Credit Committees (as developers, valuers, and bankers);

Experienced Accountants;

Experienced Collections Team; 

Experienced Proprietary Software Developers; 

Experienced Board of Directors;

Experienced Independent Non-Executive Directors



Third-Party Service providers
Royal Institution of Chartered Surveyors – RICS approved valuers;

Credit Bureau Agencies:

Experian

Equifax

TransUnion

Cifas

Solicitors Regulation Authority – SRA approved Solicitors;

Independent ISO27001 Auditors;

Independent Auditors;
Kuflink adopted 'The new Consumer Duty' as demonstrated by the 'Kuflink Consumer Surveys' launched in January 2022. We have just issued our third Consumer Survey in June 2022 – please see it on the Kuflink ESG page. The Official Launch of the 'New Consumer Duty' by the Financial Conduct Authority will be in late July 2022. We are grateful to you for your approval of our high standards and your invaluable feedback, some of which we have already started developing.

Kuflink has implemented the new requirements to strengthen operational resilience in the Payment Services sector in March 2022. In particular, this is in regards to our Open Banking platform operated by Kuflink One Ltd. Furthermore, we have undertaken this task across the Whole Group. 
In the last few months, we have made forward-thinking inroads into upcoming regulation requirements which we have found to be beneficial now rather than later, and introduced new features as requested by our client base. Together, we are furthering our purpose in connecting people to financial freedom. 
*Capital is at risk and Kuflink is not protected by the FSCS. Past returns should not be used as a guide to future performance. Securing investments against UK property does not guarantee that your investments will be repaid and returns may be delayed. Tax rules apply to IF ISAs and SIPPs. Tax treatment depends on the individual circumstances of each client and may be subject to change in future. Kuflink does not offer any financial or tax advice in relation to the investment opportunities that it promotes. Please read our risk statement for full details.